Diagram and Data of the Waterbury-Oxford Airport
---
Visit our page on AirNav.com.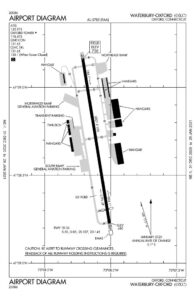 Airport Data
LOCATION: 5 MI W of Waterbury
LAT: 41° 28.77
LONG: 73° 08.13
ELEVATION: 727'
Runway
18-36, 5,801'x100' (grooved asphalt)
Traffic Aids
Wind Sock (lighted)
Segmented Circle
Rotating Beacon C & G
Traffic Pattern
Standard 1000' AGL
Fuel available: 100LL JET-A
Parking: Hangars and Tiedowns
Airframe service: MAJOR
Powerplant service: MAJOR
Bottled oxygen: NONE
Bulk oxygen: NONE
Instrument Approach Procedures
ILS OR LOC RWY 36
RNAV (GPS) RWY 18
RNAV (GPS) RWY 36
Weather: AWOS-3
Noise Abatement  Procedures
Runway 36 is the designated Calm Wind Runway.
Touch-and-go operations and practice low approaches are prohibited between 11:00 pm and 7:00 am.